Your developer content calendar says it's time to publish another post. You have one ready—written, edited, and staged in your CMS. You have a distribution plan, too… but it can only be as successful as the post allows. The difference between a dud and a winning post has mostly been determined before you click publish.
Let's help you identify the pre-publication mistakes to avoid, so you can allow your content to flourish. In the sections below, we'll look at how you can identify star content at the planning stage, ensure your content understands what its audience needs, and that the actual words in the post connect those dots. Otherwise, you're relying entirely on your promotion engine, which will be less efficient when fueled with sub-par content. As we'll see, over-reliance on distribution tactics can have the opposite effect on technical audiences.
Some Content is Doomed From the Start
Imagine someone has rearranged the stickers on a Rubik's Cube. This classic puzzle is notoriously difficult to solve—even with factory default patterns. If the colored squares have been artificially shuffled, it may become impossible to complete. You might jump in unaware your attempts are futile.
Many technical content teams are in a similar situation. While nobody has purposely sabotaged them, these teams unknowingly trudge forward with non-strategic content. Just because a topic is technical does not mean it will connect with the right audience—or any at all!
It's the volume-over-relevance problem that keeps organizations from recognizing the issue.
We often hear teams say they have plenty of content, but that it underperforms.
Usually, this is a sign the team moved too quickly past the post-planning stage.
Before you've written a single word, you can check that a topic understands the audience's mindset by answering questions like:
How will they discover this content?
What problem are they trying to solve?
Why will this blog post help on their journey?
It may sound simple—but it's amazing how many posts skip this step. That's the first technical content mistake.
We've found other teams struggle to answer these basic questions about their audience. In this case, they typically double their problems. In addition to the failure to connect their post to the audience's mindset, they also proceed directly to the second technical content mistake.
Technical Readers Don't Care About You
In every company's headquarters is a closet. The contents spill out—if not literally, then figuratively—each time it opens. Shirts, hoodies, stickers, and water bottles pile up the shelves. This "swag closet" glows like a shrine to the company. Yes, you can make friends with a free t-shirt, but don't confuse this with actual interest in your product. Most importantly, your content should not resemble your swag closet, with its intense focus on your product.
When your content starts with your product, you're missing an important fact: the technical reader doesn't care about you and your product. Not yet.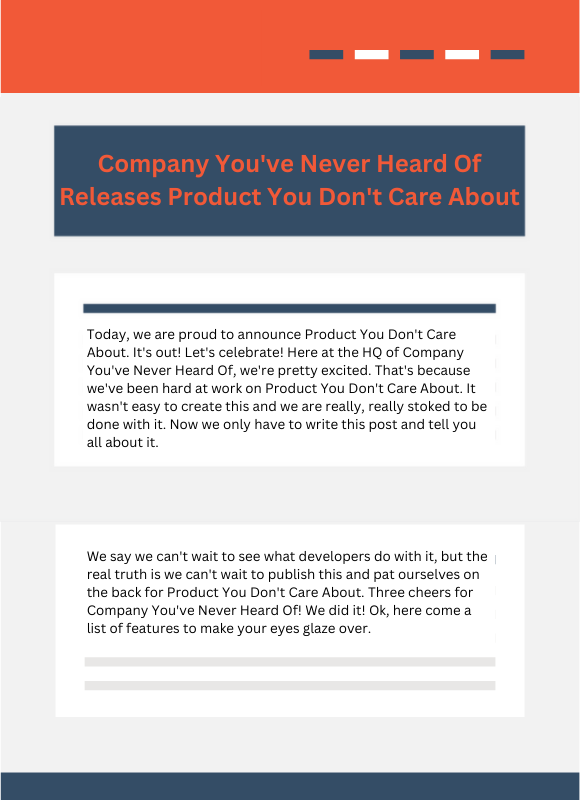 Promotional content will mention your product before the problem it solves. It's not that you intentionally publish promotional content. They're called mistakes because they're accidental. In fact, it's often difficult to spot promotional content from your perspective inside the company. You already know the product and believe in it. It's tempting to skip ahead to the solution.
Many readers will have just discovered you. They're not there yet. Even worse, technical audiences can be especially skeptical of the motives behind anything that seems to have a marketing purpose. Obviously, you can't stop your marketing. But you can be sure everything that goes out gets a promotion review—to remove the rough edges of blatant marketing that repel developers.
You Still Need to Write Well
Most marketers are good writers. It's the primary skill you use to craft your work. As multiple contributors attempt to reach a technical audience, it's natural to let some fundamentals slip. Also, as we've seen in the first two mistakes, technical audiences can be more critical of marketing's approach.
Of course, your technical audience is still made of humans! They can be drawn in by expert headlines. Your opening line will pull them further into the action. Short, friendly sentences will keep them reading. A long, flowery series of extravagant words like this says less than it should, given the space it inhabits. Say more with fewer words.
Again, these are fundamentals, but you want to ensure you adhere to them in your technical content, too. At the same time, remember that what is compelling to one audience could repel more technical readers. A headline that looks like clickbait, for example, might still receive clicks. But prepare yourself for extremely skeptical readers.
Technical visitors will also side-eye product claims, special deals, incomplete information, and a whole lot more. That includes sentences that end in "a whole lot more." One solution to this and other technical content mistakes is a style guide. You can put together your most important technical marketing tips and share them with all contributors. As you do, beware of some common issues:
Your style guide may become outdated
Contributors may forget to use your style guide
As you add to the style guide, it may become less organized
While style guides are well-intentioned, they can be accompanied—or even replaced—by more actionable tools.
Plan, Write, and Promote Better Technical Content
The technical content mistakes described in this post are common. Even the best marketers get caught in their traps. Avoid them and your team will consistently produce great content that attracts the right technical audience.
To set them up for success, consider these Technical Content Checklists from EveryDeveloper.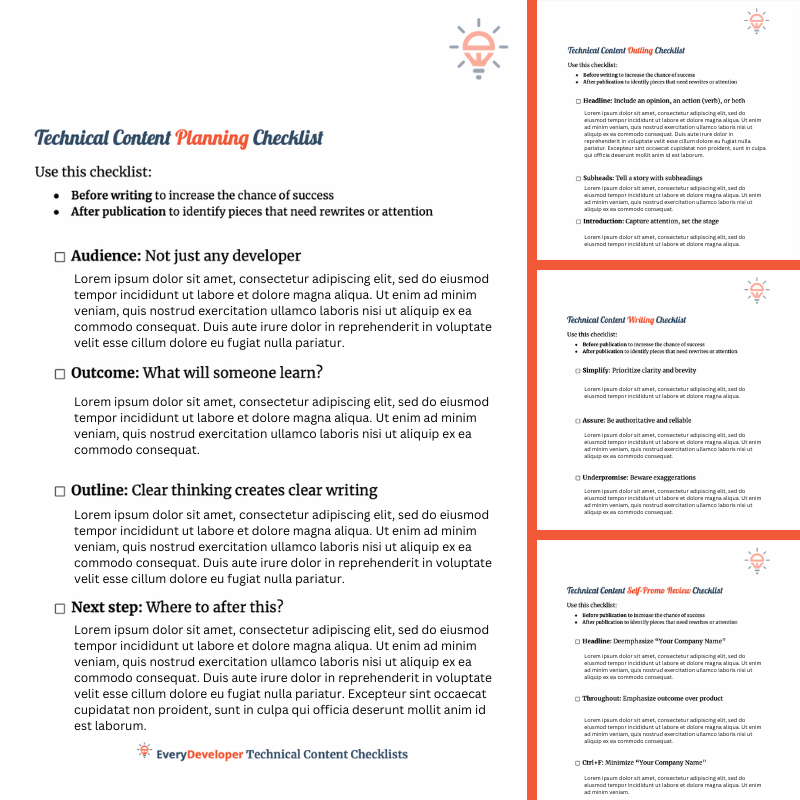 Originally developed to help our consulting clients who have technical products like yours, these checklists will help you avoid and fix the most common technical content mistakes. Use them as a sanity check before publication or at the concept stage before a word has been written. You can even run the checklists on existing content to find areas to improve—that's like free traffic for minimal effort.
Get the checklists and improve the consistency of your technical content program today.