Opening up your website analytics is a chance to visit your traffic darlings and your unexpected successes. These are a delight to report out to team members and executives. Then there are the underperforming disappointments and struggling missives. These are the ones that don't make the reports, the bits of debris that get swept under the metaphorical rug. Yet, for a mature content program, both offer opportunities to increase traffic, engagement, and other important metrics.
Within your corpus of content, almost regardless of size, are new possibilities. Especially if you've done the work to identify Content Concepts, not blog topics, you can create new traffic, improved engagement, and even additional content pieces without writing wholly new content.
In this post, I'll show how you can:
Reframe your content to attract a technical audience
Repurpose existing pieces into new content
Republish in new channels and formats
Along the way, I'll share how other technical products have used these three strategies to create more from their current efforts.
Reframe: Ensure Your Content Has a Strong Angle
Great technical content always has a strong angle. That's why "Angle" is the middle element of the content pattern that engages technical audiences. It can make the difference between a piece that soars with clicks, sharing, and traffic, and one that is doomed to the curse of the generic. Though it comes second in the pattern, it's the first place you should look for quick wins with existing content.
A powerful angle starts with the headline. In fact, it may be as simple as updating the headline!
For example, consider this headline from a recent Google Developer Blog post:
Jetpack Compose Buttons for Google Pay and Google Wallet
Without any verb in this headline, it's just a subject sitting there without anything to do. That's a sure sign you're missing an angle.
Embedded in the middle of the post is this sentence:
With this new library you can implement the Google Pay button in your Android apps with even less code than before
Oh? That's notable, which pointed me to this improved headline, which includes an angle:
Add Beautiful, Low Code Payment Buttons to Android Apps
"Add" isn't even that great of a verb, but it does more to suggest an outcome. As you reframe, look for the outcome.
Here's an example of a post I wouldn't reframe: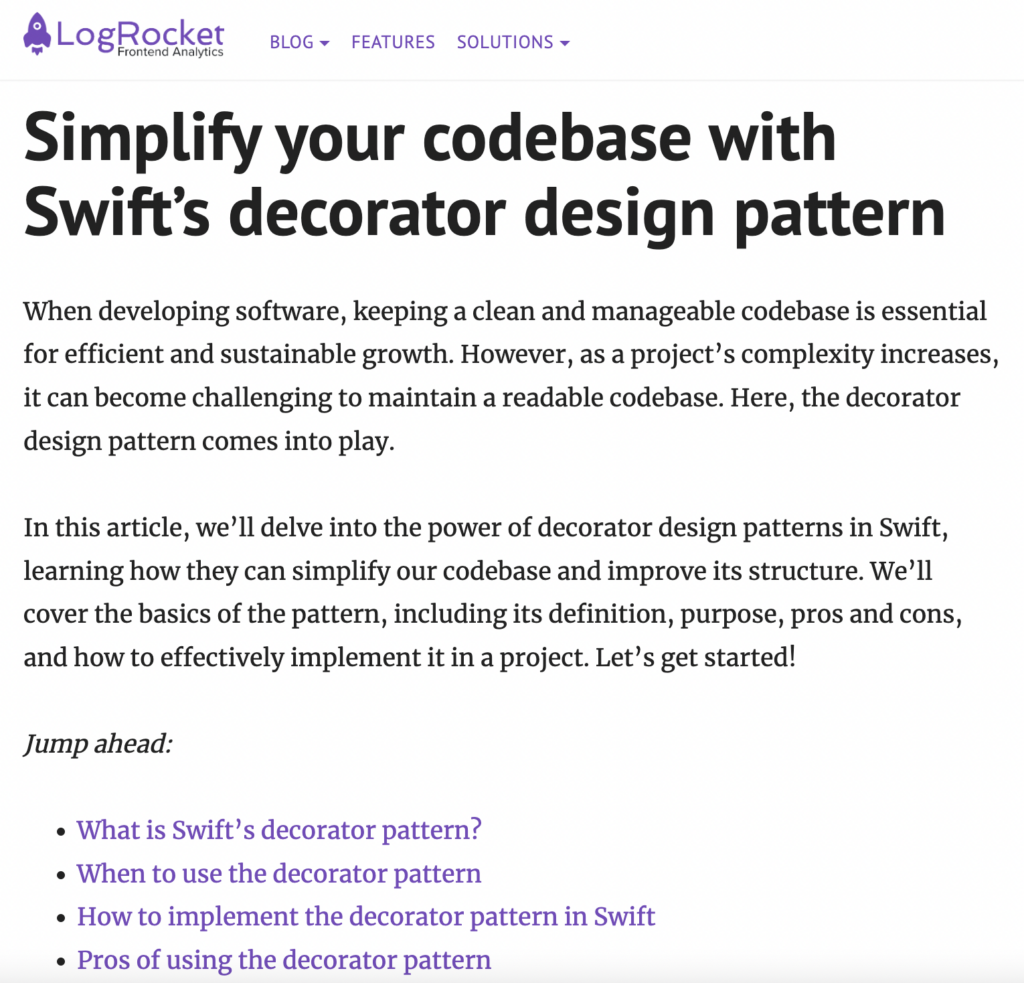 LogRocket gets a mention in my great developer docs examples post because of the lessons it shares on its blog. Its Swift decorator post is an example you can use as you reframe your own content.
Consider these minor updates that can make a major impact:
Headlines with angles that imply outcomes and have opinions
Sub-headings that tell the story and support the angle
First paragraphs that reframe a section around the heading's promise
Publication dates that can be updated if you've changed substantively
These changes all support SEO to improve ranking and clicking. They'll also encourage deeper reading when someone arrives on the page. Content with an angle is also more likely to be shared—and, again, your tweaked headline will often be shared and now encourages clicks.
Reframing content is your quickest win. If you have access to search engine ranking data for your content, focus on pages with high search impressions but low clicks, which implies searchers are looking for something your headline does not provide. You can also find great opportunities in pages that rank on the second or third page of results, hidden from most searchers.
You can also find opportunities with your gut. Which content did you have higher hopes for, but hasn't succeeded? Those are great opportunities for reframing. Or, simply browse your content and look for generic headlines like the Google example above. As you browse, you can also look for opportunities to repurpose, which is covered in depth in the next section.
Repurpose: Bundle and Unbundle Existing Content
When you have a lot of content, adding yet another new piece can feel like it has diminishing returns. And sometimes it does. That's why we focus so heavily on Content Concepts instead of topics. When you create new content related to an existing concept, it can potentially raise the visibility of all related content.
First, consider the concepts your content currently supports. These are themes or categories across your site. Then, look for ways to bundle, unbundle, or reformat your most successful content within your concepts.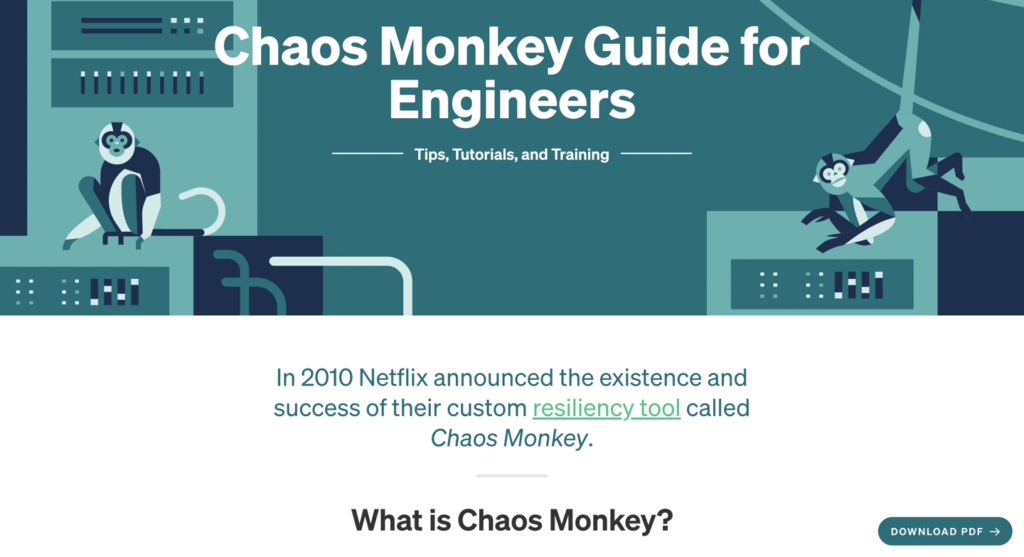 For example, I'm a big fan of what Gremlin did with its Chaos Monkey guide. This is 18,000 words of deep, developer-focused content about chaos engineering. For Gremlin, which enables companies to track software reliability, the chaos pattern is foundational. Rather than an e-book or whitepaper, the team published the guide as a section of its website, with individual pages on specific topics. That alone is worth emulation, but so is how they've used this deep resource after publication.
The Gremlin team has bundled and unbundled the Chaos Monkey Guide multiple times. For one, it is bundled as one big PDF, if that's how someone wants to consume the content. That also makes the guide more sharable across a potential customer's organization. There are also many references to the guide and subsets of its content throughout other Gremlin content.
Here are three examples of unbundled Chaos Monkey content:
These and many other posts point back to the original, but also take a new angle at the existing content. It's like a reframe with just the content that supports the new angle.
A great place to start with unbundling is with a large piece of content. There needs to be enough there worth unbundling. It does not have to be the 18,000 words of Gremlin's example, but it's likely lengthy, dense, or covering many sub-topics.
For example, MongoDB could consider unbundling its NoSQL explained section of its site to expand the sub-topics—such as database types, differences, and NoSQL misconceptions—into topics of their own. Indeed, the company has extensive content, and it has covered some of these themes with other content.
A shorter example of an unbundling opportunity is a glossary page. If you have a list of terms, each with a short description, you could break out portions of related terms into new content. This approach will be especially interesting if you have the content within other documents that can easily be repurposed. If that's not the case, you might have significant original content to write, which runs counter to our overall objective. Note the potential project for the future and then move on to bundling opportunities.
Again, we'll point to LogRocket for a great example of bundling with its 10 most important JavaScript frameworks of the past decade. LogRocket has written plenty about each of the 10+ frameworks mentioned in this post. Here, they've consolidated with brief overviews, some editorial ranking, and plenty of cross-linking.
These sorts of roundup posts are sometimes eyed suspiciously by skeptical audiences. But there's a reason they're still written—they work well as snackable content that's easy to produce. Beware of leaning too hard on this format, because it often does not support a lot of technical depth. In this case, LogRocket backs it up with plenty of additional resources that go well beyond surface level.
As with reframing, look for content that has performed well or has an opportunity to perform better.
Some great opportunities for bundling include:
Competitive tools already covered separately
Complementary tools, such as a stack covered individually
Best practices posts on related topics that can be combined
Multiple interviews that can be combined on specific topics
You can also look at different formats. For example, you may have podcasts, videos, or other long-form multimedia that has not been published in written form. For these to be successful, look for the angle—the story—within the content, don't make the original piece of content the point. It's an admittedly hazy line, which makes this type of repurposed content similar to republished content, covered in the next section.
Republish: Amplify Your Content in Other Channels
We're often asked about how to promote content that is already written. "How do we get more views?!" Sometimes this is a sign of vanity-driven marketing, which instead requires a re-focus on evergreen, audience-relevant topics. But if it's a matter of getting good content to more of the right audience, then republishing is an approach you should consider. Even better, it can be combined with the previous two methods to reach an even broader audience.
The most likely place to amplify your content is someone else's publication. There are countless locations to guest post, though you'll be looking for sources that don't require original contributions, since your goal is to republish existing content. You can find guidelines on most publications to see whether your content is welcome.
For example, here are some technical publications that accept submissions:
Each publication has different types of content, so you'd want to make sure to hit the mark. If you have no data science content, obviously stay away from the publication that is focused on those topics.
Notably, two of these example publications are powered by Medium. You can publish on Medium, and some other sites like it, without anyone's blessing. Indeed, there's not a drawback to this approach and it could be beneficial based on how these sites expose new content to their existing audiences.
Whenever you republish content in its entirety, you'll want to link back to the original location on your site. If possible, also set a canonical link to the original, as well. That helps search engines avoid duplicate content penalties.
Here are some platforms that allow technical content with canonical links:
These platforms have large audiences. In the case of the developer-focused sites, it's even a large number of the right readers. That makes this tactic interesting for companies of all sizes.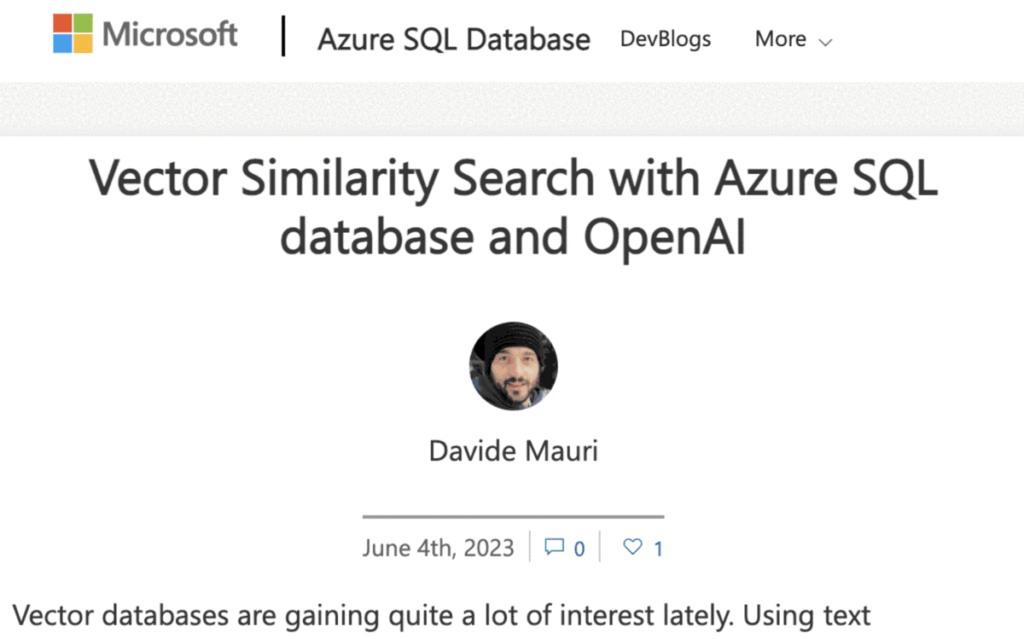 Microsoft publishes technical posts like this one on its own dev blog. Then it cross-posts, with the same content and author, on a Dev.to version. No other updates, though it does include the canonical link, shown with the "originally published at" note at the top of the republished version.
You might take a few of your posts and copy-paste them in their entirety. It's worth testing! You might also take the opportunity to combine republishing with a reframe of the content. Take a post that's already popular, change the headline, and you may see the second version is also popular without competing directly with the original for every search result.
Similarly, you might publish repurposed content as guest posts or on these platforms. Here, you're looking to bundle or unbundle your existing content, but publish it as semi-original content. You might not need a canonical link when you've combined multiple sources or excerpted from a larger piece of content.
Some of these republication approaches take very minimal effort, which makes them worth trying for the potential upside. Similarly, you can look into your archives for content that hasn't been promoted via social channels recently. There may be new life in old content, especially if you can mention other companies, tools, and individuals covered in the posts.
Finally, take a look at different content formats again. Can you take the transcript of a video or podcast and turn it into a blog post? Or can you take a popular post, add a visual element, and upload it to YouTube, Twitter, LinkedIn, or other channel?
It's possible to reframe, repurpose, and republish content in a way that's inauthentic to your technical audience. Hopefully, you've seen that's not the approach we recommend. Unless you're just starting out, you probably have a well of existing content to pull from. Either way, these tips should become part of your playbook to maximize everything you publish.
Recommit to Great Technical Content
If you're looking to grow, you'll need a technical content strategy that outlines the path and expert support to answer questions on your journey. At EveryDeveloper, we offer integrated content strategy and production, with positioning-precise content. That means, unlike our competitors, we get started by jumping into your product and collaborating with your team to understand what's different and engaging about your product.
Like the methods shared in this post, we're often able to get bigger results with less content. Our team incorporates the insights about your unique positioning into the content strategy and then the content we produce for you. If you're looking to upgrade to great technical content, let's have a no-pressure chat.