If you run or contribute to a developer blog, you might already spend hours each week brainstorming, writing, and publishing. You likely don't have much more time to dedicate to content.
Even so, authentic blog posts, tutorials, guides, and even landing pages are key to attracting developers to your product.
So here are three-and-a-half improvements you can make in minutes to your developer content. These include hacks to help you expand the narrative and reduce product discussion, ensuring you'll reach more developers.
1. Headlines Should Have Opinions
The first thing a developer sees when reading a blog post is the headline. It may also show up in search results, on Twitter, in Slack, or on a community forum. You want to grab attention and provide an idea of what's to come.
The best way to do that is by stating your opinion.
Developer-focused companies and products absolutely have them. Get a founder, early employee, or engineer talking about why the product exists and you'll hear a clear viewpoint. Yet, that point of view doesn't always translate to the website, documentation, or even blog posts—and it should.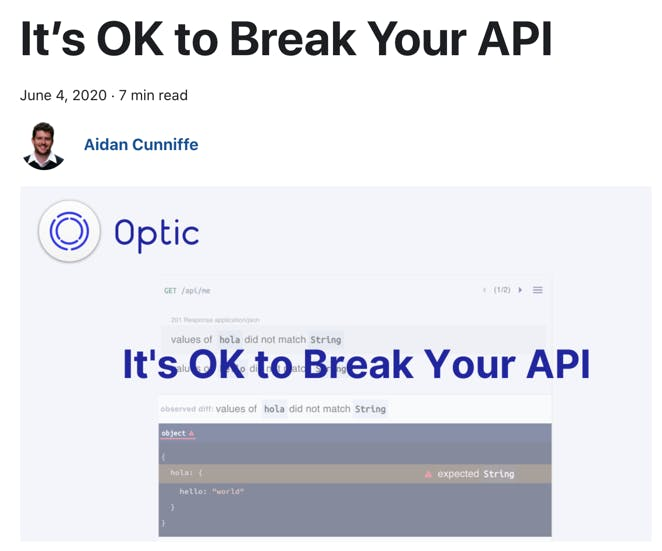 Now, that's what a good opinion looks like.
The number one problem with developer content is it's generic. This Optic example, on the other hand, is clear. Direct. Not generic.
Some additional headline guidelines to keep in mind:
Include important keywords
Place verbs early in the headline
Avoid "ing" words, which weaken verbs
Leave some curiosity without being too clickbait-y
A strong opinion can attract developers, whether they agree or not. And just as opinionated headlines are a must, what your subheadings say is equally important.
1.5 Use Sub-Headings for Skimming
Everyone skims before they read. While not a reflection on your writing, the majority of visitors may only read your sub-headings. This makes them almost as important as headlines, so put in the same effort.
Best practice is to include 3-5 in most blog posts. A useful trick to ensure they're up to snuff? Ask if you can understand the point of the post(or even predict the headline) by only reading its sub-headings. For example:
Headlines Should Have Opinions

Use Sub-Headings for Skimming

Watch Out for Over-Promises
Ctrl-F to Keep Out Promotion
Based on the sub-headings, it's not a far leap to assume this post is about three (or three-and-a-half, including this one) content-related topics. Better yet, you get a feeling for the recommendations (another word for opinions) that we're sharing within those topics.
2. Watch Out for Over-Promises
When you make big promises and promote your product, you can't help but create expectations. But most developers have seen plenty of pledges from marketers, many of which don't live up to the hype. They've learned to be skeptical.
And nothing triggers a developer's skepticism like typical marketing language, even when you have their best interest in mind. Here are a few words and phrases to limit, or even remove, to avoid frustrating developers:
Easy
Simple
Scalable
No strings attached
Magic
This list is by no means exhaustive (don't forget "zero-configuration," or "it does exactly what you need") but it's important to look for over-promises and find ways to rephrase them. In many cases, you may be able to remove the offending word or sentence completely without changing the meaning of what you've communicated.
3. Ctrl-F to Keep Out Promotion
Just as with marketing spiel, developers are wary of promotion. Even the most useful blog post will make them skeptical if they see a call to action or promise early on, like in this example of an overly-promotional piece:

You can avoid this by going one level up from the product. Share your opinions, backed up with product-agnostic examples, before you share your product.
The solution is just two keys:
Ctrl-F in your browser (Cmd-F on Mac) can help you find promotional language and squash it. Search "your company name" and aim to have minimal mentions, likely lower in the post, as in LaunchDarkly's landing page:

And now for an example of our own. Since we've reached the last tip, we've hopefully earned to right to mention how our D.E.V. Content Framework can help you find your unique viewpoint that will resonate with developers, engineers, and architects. Learn more about the framework now.